Hello everyone!
As we mentioned at 1st blog, India is vast and diverse in culture by north, south, east, west.
Handicrafts have their own characteristics in each region. Interested in textiles from all across the country, we would like to share our knowledge about Indian textile based on the experience we had during our travel and visit the artisans.
Let's start with our beloved Jaipur and Rajasthan textiles.
Hand Block Print
Needless to say, this is a famous print of Jaipur. Basic process of curving woodblock to create pattern, pressing it on fabric has been around for more than 1800 years. However Jaipur's block print flourished in the 17th and 18th centuries when East Indian company started to export this textile to various parts of Europe and became one of their major exports.
This is also called Sanganeri print because there are many workshops in the town of Sanganer on the outskirts of Jaipur. In the suburban town called Bagru, block print using indigo, other natural dye, and mud is the popular method, and is called bagru print.
The more detailed and vivid the pattern is, the more blocks used and time spent in a single print.
Tie and Dye
Tie & Dye process in which colors are applied while knotting and folding cloth into various shapes. The tie & dye technique used in Japanese kimono is said to have been transmitted all the way from India in ancient time.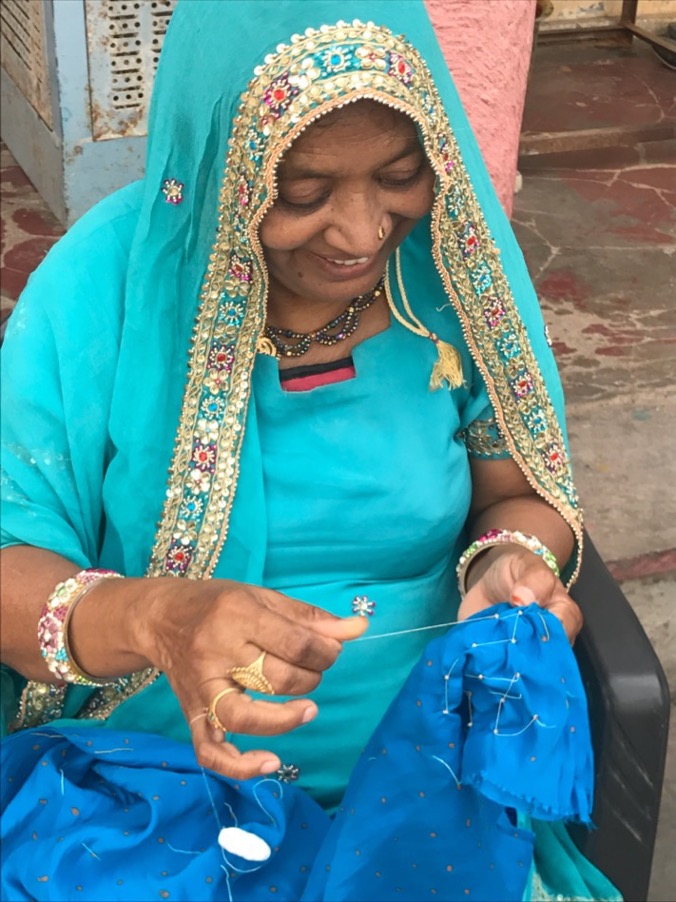 While there are various characteristics on every region, there are two types of tie & dye which are typical to Rajasthan. The one in which a pattern is made by knotting several points with a thread is called "bandani", the other in a wave pattern is called Leheria. Bandani are also popular in other parts of India, but Rajasthan ones are characterized by large knots. The wave-shaped Reheria is used not only in women sari but also in men's turban in Rajasthan.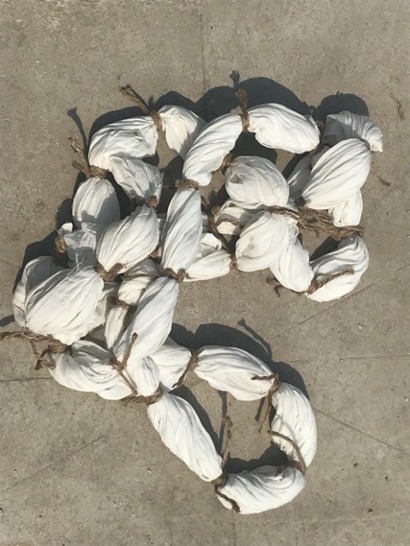 Kota Doria
Kota doria started in the 17th – 18th century in Kota, a small town in Rajasthan. It features a fine checkered weave pattern, and is usually woven tight on silk and cotton. Originally made to be dedicated to Kota's princess, Kota doria that allows air to pass through the check gaps is perfect for the arid Rajasthan climate and is now commonly used.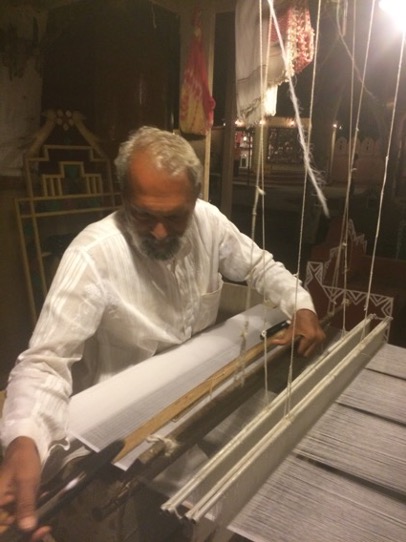 Applique
Balmer, a town near Pakistan on the western end of the state, hardly has large factories with facilities, rather local representatives give instructions on patterns, provide materials such as threads and fabrics to each family, with which housewives can work during their free time from household. They work at home or sometimes neighborhood gatherings and bring them to the representatives. The applique is basically is made by two types of white cloth. The cut out design part of the thick fabric is sewn together with the thin fabric so that the pattern is shown through from the thin part. In addition, simple kantha (running stitch) fabrics are also made in this area.
Various Khadi
Khadi, a general term to explain hand-spun hand-woven fabric, is woven in various parts of India. In Rajasthan, thick khadi with relatively thick threads are made. Materials are usually cotton, wool, or linen. The thicker threads are better suited for this dry area than the finer threads that are better suited for the humid region such as Bengal. In addition, there are many places where weaving machines are 2 meters or more in width, which we do not often see elsewhere.
The more discoveries you encounter, the more curiosity you have. The journey of textile is endless.
ラージャスターンのテキスタイル
こんにちは
ブログの最初にもお伝えしましたが、広大なインドは東西南北で文化もさまざま。
手工芸も各地域でそれぞれ特徴があります。私が興味を惹かれるのは各地のテキスタイル。今まで訪れた場所を中心に、少しずつですが知っている範囲で、インドのテキスタイルについてご紹介したいと思います。
まずは私たちの拠点であるジャイプールとラージャスターン州のテキスタイルから。
ブロックプリント
言わずと知れたジャイプールの代表的なプリント布。模様を彫った木版に色をつけて布に押すという基本的なスタイルは1800年以上前からあるとも言われていますが、実際ジャイプールのブロックプリントが栄えたのは17-18世紀に東インド会社からヨーロッパ各地に輸出され人気が出たことが理由だと言われています。ジャイプール郊外のサンガネールという町に特に工房が多いことから、サンガネリプリントとも言われています。さらに郊外にあるバグルという町では、藍や天然染料と泥を使ったブロックプリントが主流で、バグルプリントと呼ばれています。
柄の数、色の数だけあるブロック。柄が細かく鮮やかになればなるほど、一枚のプリントに使うブロックの数が増えていきます。
絞り染め (tie & dye)
布を様々な形に絞ったり織ったりしながら色をつけていく絞り染め。日本の着物に使われている絞り染めも、その昔インドからはるばる伝わったと言われています。
各地によって様々な特徴がありますが、ラージャスタン特有の絞り染めはバンダニといういくつもの点を糸で絞りながら模様を描いていくスタイルと、レへリアという波模様のスタイルがあります。バンダニはインドの他の地域でも盛んですが、ラージャスタンの物はひとつずつの点が大きめなのが特徴です。また、波模様のレへリアは、サリーはもとよりラージャスタン男性のターバンにも使われます。
コタ・ドリア
ラージャスターンの小さな町コタで17-18世紀に始まったコタドリア。細かいチェックの織り模様が特徴で、シルクとコットンで張りのある布に仕上っているのが一般的です。もともとコタの妃に捧げるために作られたものですが、チェックの隙間から風を通す布は灼熱のラージャスタンの気候にぴったりで、今では一般的に使われています。
アップリケ
州の西端、パキスタンに近い町バルメールは、大きな設備を持つ工場はほとんどなく、地元の代表者が各家庭に柄の指示、糸や布などの素材を配り、それを女性達が家事の合間に家や近所の集会場所で作業し、代表者に持って行くという方法でアップリケを作っています。基本的には2種類の厚みの白い布を使い、厚い布の切り抜いたデザイン部分を薄い布と縫い合わせて、薄い部分から模様を透かして見せるものです。また、この地では、比較的大き目の刺し子も盛んに作られています。
カディいろいろ
手紡ぎ手織りの布の総称「カディ」は、インドの各地で織られています。ラージャスターン州は比較的太めの糸で織る厚手のカディが主流です。素材もコットンや、ウール、リネンなどがあります。湿度のあるベンガル地方に向いている極細の糸ではなく、太めの糸がこの乾燥した地域には向いているからです。また、他ではあまり見ない2メートル以上の横幅のある織り機を使っているところも多く、ベッドリネンなど、幅の大きな布も多く生産されています。
知れば知るほど新しい発見がある奥の深いテキスタイル。生活に根付いた工芸。布の旅は尽きません。